God is good all the time! All the time God is good!
The Lord has been teaching me so much about trust lately, it's unreal. I am still very much on the journey in this but wanted to stop and reflect a bit on it because in this battle of seeking to cling to promises and flee from doubt, the Lord has used some pretty special people to speak His truth audibly to me. Yes, His word is enough, but how gracious is He who goes the extra mile to have someone also speak what is written so that I might hear it even clearer.
I cannot express how much the Lord has used mentors in my life for this very purpose. Sometimes it has been to hear hard things that I don't want to hear...maybe an area of sin in my life or a direction toward sin that I am heading in. But more often, it has been to hear the encouragement that I have been too hard-headed to hear for myself from His word. It has been to remind me of the Lord's promises and to encourage me to keep fighting the good fight. After all, is there any other fight worth fighting. No matter the difficulties any present moment might lend....still, I'd rather be fighting the GOOD fight of Christ than any that would instead promote my flesh.
This school year, I have been extra focused on the need for mentoring within the Girls Ministry. Every topic we have covered in Bible Study in some way has also pointed to the need for accountability from an older, wiser, godly woman. Last night, after hanging up the phone with one of my precious out-of-town mentors, I had one of those "ah-ha" moments of "YES! This is exactly what I have been stressing." Someone that listens, allows you to be real...and yes, cry...even the slobbery-messy cry, but then turns you away from the lies that you are allowing yourself to believe (even when it's painful to hear) and points you right smack into Scripture. This is godly mentoring.
No one is strong enough to battle all the lies alone. You will inevitably have blurred vision and yes, believe a lie(s)....unless you allow someone to come in your life. Someone to know you, your good times and your junk...and loves you anyway! And most importantly: Someone that will love your pursuit of righteousness more than your feelings!
I am so thankful that God has led different ladies to mentor me throughout my Christian walk so far. I have had several ladies in my life too. Some for just a season at a time, but wow, they have made a lifetime impact. As I reflect on how thankful I am, I can't help but tearfully pray to God to use me to be the same kind of impact in the lives of girls I come in contact with. I know God is glorified in relationships like that and I pray that my life is one that is bold for the sake of righteousness and pointing others to His word above all else...especially pride in the flesh.
"I beg you that when I come I may not have to be as bold as I expect to be toward some people who think that we live by the standards of this world. For though we live in the world, we do not wage way as the world does." ~ 2 Corinthians 10:2-3
I hope you will pray for me too! I also hope that when you pray you pray for
your
mentor, to strengthen her on her walk and to continue to have boldness in your life. If you don't have a mentor, I pray that you will not only pray about having one but that you will actively seek one out now!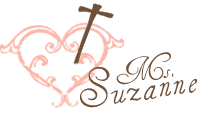 PS - Be on the look out! I will be featuring some "Guest Bloggers" soon too! Great stuff in the works!