So, I completely realize that I have gotten behind in updating the blog. I'm mad at me too. BUT, I will tell you that an update is just around the corner with some fabulous pictures from our Daddy/Daughter Dinner. I just can't wait to post! It was such a fun night and all the girls and dads looked awesome! Everyone cleaned up so nicely. :)
Also, we will have our March Dig up on March 3rd so be on the look out for that. We have had so much fun stuff going on in our Student Ministry that February's Dig just didn't make its debut. In fact! We even welcomed our new Student Ministry Admin, Candy Price to the team this month! Woohoo!
So many exciting things going on...you don't want to miss out!
- March 7th - High School Girls will have a Makeover Night at Mrs. Renee Curry's home from 3-5 PM that Sunday. Subject: Body Image and Self-Esteem
- March 21st - Our next Girls Service Day for Middle School and High School Girls. Meet at the Illumination Room at 2:30 and we will be back by 5:00.
- April 1st-3rd - Disciple-Now Weekend 2010! You do NOT want to miss this in town retreat! Be on the look out for more information about this super awesome weekend!!
- April 12th - Our next Middle School Makeover night at Mrs. Carla McFarland's home. We will meet from 6:30 - 8:00 PM on this Monday evening. Subject: BOYS!
- April 17th - Our next Dine, Dig, & Drama. We had such a blast at the last one that we are doing it again! More info to come but mark your calendar!
- May 2nd - Our last High School Makeover Night before Summer. This Sunday afternoon event will be at Mrs. Gina Allison's home from 3-5. Subject: BOYS!
There you have it! Mark your calendars now and be on the look out for postcards and announcements with more details. Most of all, check back here for pictures and updates! I promise to be better at making this an awesome site for you girls! So help me by posting a comment and tell me that you stopped by! :)
Love!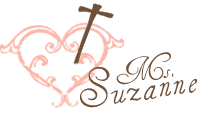 "Therefore, as God's chosen people, holy and dearly loved, clothe yourselves with compassion, kindness, humility, gentleness and patience." - Colossians 3:12