Hello Girls!
What a fun and fast week or so it has been since we launched this blog and the girls ministry! The girls ministry launch was so much fun! We unveiled our new logo (which is included in our blog header above), our new Girls Ministry T-shirts ($10) , walked through our 2009-2010 Girls Ministry Calendar, and announced our Girls Retreat for October 16-17th at Coker Creek Retreat Center in Coker Creek, TN! It was such a fun night that kicked off with door prizes (yes, even iPods!) and some awesome worship led by Anna Luzader. I will post some pictures tomorrow from the event. We had 150 moms and girls attend. It was 100% answered prayer!
So, you may be asking...what is this Girls Retreat?! And of course, the larger question...how do you sign up?!
About the 2009 Girls Retreat:
October 16th and 17th (all day Friday & Saturday... it's Fall Break!) we will have a girls-only retreat! We will have a grand time playing sports, making crafts, fellowship, and even a hoedown with line dancing and a mechanical bull! But most importantly we will be digging into God's Word throughout four sessions as well as some breakout discussion time as we seek God's direction for Pure Relationships, and how we are to treat One Another, forgive One Another, and love One Another in a manner that glorifies God. Middle School and High School girls will be split up in cabins, during discussion questions, and sports activities. Seriously, you don't want to miss this!
How to Sign-Up:
The cost of the retreat is $60 if paid before the October 7th deadline. After October 7th, the price goes up to $75. This covers all food, housing, transportation, goodie bags, and a retreat t-shirt (<- yay!). You just need to fill out one of the Girls Retreat Envelopes found at The Point, The Illumination Room, or the Church Office and stick your money in it as well as BOTH medical release forms and then turn it in either to the Church Office, or to one of the lock boxes found at either The Point or Illumination Room. Simple as that! Of course, if you have questions about the retreat, or about how to sign-up....just click the "e-mail Ms. Suzanne" button to the right and send me an e-mail or give me a call! This is going to be such a fun weekend, I hope you can join us!
*ALSO Come to Wednesday Night Youth this week to see a hilarious skit by our Junior and Senior Girls! THEY want you to come to the retreat too!!

Another, fun tid-bit from my week is that I had the privileged of attending a Girls Ministry Conference in Memphis, TN at Bellevue Baptist Church (where my sweet friend Leslie Hollowell is the Director of Girls Ministry)! Mrs. Gina Allison
came with me and we had such a wonderful time learning about...well...YOU! We learned more about teen-culture, new resources that are hot off the press, and some creative ways of reaching Middle School and High School girls with the awesome news of Jesus Christ! Thank you for those that prayed for our trip...it was a rainy mess on our drive "out west" but the Lord used that time to encourage me as I got to meet other Girls Ministers and train me in this ever changing culture. Thank the Lord, that He and His Word NEVER changes! "Jesus Christ is the same yesterday and today and forever" (Hebrews 13:8) and "the word of God is living and active, sharper than any two-edged sword" (Hebrews 4:12). So, despite trends and fads that come and go, the Truth of Jesus Christ remains the same, and our need for Him remains the same! AMEN!

I want to close this blog post with quote from our Quiet Times this week. In the extended reading from our Quiet Time book today, it said something that really struck me and has influenced my prayer time and thoughts all morning. After reading Psalm 88, it asked "From an eternal perspective, is he (David) not better off (in his loneliness, affliction, dark days) than the most fortunate and comfortable unsaved person that ever live?" (words in parenthesis I added for clarification). WOW. When I think like that, it gives me new light and perspective on the struggles I endure, because regardless of how painful some struggles are, they will not last!...my time here is just a vapor, and I have eternity with Jesus waiting on me! Hallelujah!

What has struck you this week in your quiet times? Comment please!

Also...Stay Tuned! I am going to post the October DIG Questions later this week! YAY!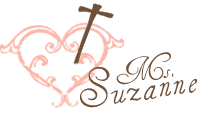 PS - Middle School Girls, don't forget next Monday Night (10/5/09) is our first Monday Night Makeover! We will meet at Mrs. Pandy Wilson's house for a time of fellowship and making over our hearts...topic: Biblical Womanhood in the Home. See you there!